When I was in college, I had the opportunity to go to Cambodia to do a few months of studying abroad.  It was a great opportunity to see a different part of the world and I loved being able to find out more about all of the different cultures and experiences in that region.  It was truly a transforming life experience and one that I would not trade for anything.  While I was out there, I got to experience many of the different things that Khmer people do for fun and one of those is getting a massage.  Please get your mind out of the gutter because that is not what I am talking about.  I am talking about a true, honest to goodness, massage.  The most popular ones are the Thai massages that put you into different yoga poses and then someone stretches you out.  There are some local organizations like Deon Thai Yoga that do something similar, so it was not the biggest surprise I've ever experience, but it was a very unique experience.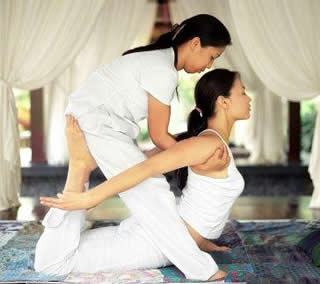 One of the things that struck me as being very interesting was the fact that the lady giving the massage probably weighed 90 pounds and was throwing me around like a sack of potatoes.  Now, I'm not the biggest person you have ever seen, but I'm also not the smallest.  So it was very impressive for her to have such a huge impact on me.  Nevertheless, this is a practice that has been going on for a very long time now and it is not uncommon for people to have that ability to grow in strength with a yoga practice.  I am sure that training with that kind of yoga is pretty common in the Southeast Asian region and I would have liked to have done some myself, had I known about yoga at the time.
Nevertheless, I am happy to know that there are options here in Colorado to get the same kind of massage as I did in Cambodia.  Many of the Thai massage classes that are offered also work well with my schedule, so I do think that I will eventually go and check them out.  The next step that I have to do is free up some money so that I can go to the class and get everything taken care of for the massage session.  I am curious if there are people that are doing it as an interest area or if people do it solely as a vocational thing.  It should be very interesting to see how it works.  My favorite thing about the massage is the stretching, so that is something that I am looking forward to experiencing in my home. The other thing that I found to be very intriguing is the culture.  I wonder how much of the Thai culture is going to come through the massage training.  It should be a very interesting thing to undergo.  I would hope that I would be able to experience a lot of what they do.